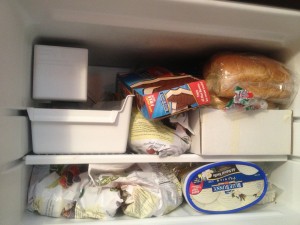 There's no good place to start when writing after a pause of several months and a transition from our latest spell in Spain to our current life in the Homeland. But eating and decision-making are always in play, so here I begin.
This is an actual, real-time inventory of sweets in the Council Bluffs kitchen: sugar cookies, brownies, and sweet rolls on the kitchen counter; carmel corn on the shelf, orange candies, Junior Mints, caramel clusters, Russell Stover mixed chocolates, and Dove milk chocolates in the cupboard; ice cream, cake, ice cream sandwiches, and pie crust in the freezer. It's all here, right now. Plus butter and bread, lots of bread.
Earlier this summer, Mr. T and I changed our eating habits for the usual reasons – to feel better, to prevent illness and obesity, to forestall death. We then embarked on a road trip. (More on that to come.) That didn't make it easy, but it reinforced that even on the road, good choices are possible. And especially on the road, you'll feel a lot perkier after eating a salad than a bunch of greasy fried food. In general, it is better to feel alert and comfortable than lethargic and bloated when driving hundreds of miles a day.
What is it about the homefront that promotes making exceptions and cheating here and there? There's no need to eat junk out of politeness. There's no excuse for not getting out for walks and exercise. There are plenty of options in stores and restaurants for healthy diets. But there are comfy chairs, televisions, socializing with the company that drops in…and no room in the freezer for anything more than a bag of frozen berries. There is plenty evidence how Tom's eating patterns developed. Vegetables are merely a garnishment to the meat and potatoes. Salads are tossed in mayo-based dressings. A sprig of fresh parsley, if such a thing existed, would serve as the daily dose of green. Snacks consist of bread or cereal, or maybe some new-fangled, crispy way of ingesting flour and shortening.
So, this could be an uphill battle as steep as High School Avenue that leads to Kirn Park.  Time to pick up the pace (and the place), head up the hill, and then go buy some fresh produce and get started on that soup.