The Three Wise Monkeys get all the attention, but the famous panel of "See/Hear/Speak No Evil" is just one of eight carved scenes depicting the arc of life.  In any case, the monkeys are incorporated into the outer face of an Edo-era stable because they were thought to protect the animals inside. The stable sits just past the storage buildings of the Toshogu Shrine in Nikko, Japan, and were carved by Hidari Jingaro in the 17th Century.
My photos are of uneven quality, because getting a consistent camera angle and light was impossible. The frieze of carvings is about eight to ten feet off the ground. Each panel is about five feet wide by three feet tall, and they wrap around two sides of the building.  An overhang has kept the carvings in decent condition.
The Toshogu Shrine in Nikko is a UNESCO World Heritage Site, so there were bunches of school children on tour, much like our 6th grade trips to the state capitol (except not). Class pictures were set up in front of the Temple Gate, and students were herded under the Three Monkeys in groups of five for photos under the Wise Monkeys. Of course, the occasional adult darted in to mimic the monkeys, too.
Here are the eight panels, in order.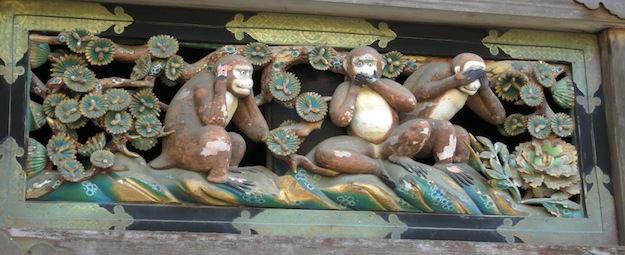 These carved panels inspired a couple bursts of haiku. Read them here.