This story was published in a recent International Living e-newsletter. IL publishes a print magazine and also offers a variety of free International Living "Postcards." To subscribe, visit International Living.
August 29, 2012
Dear Fund Your Life Overseas Reader,
When you're brave enough to go after the overseas life you've dreamed of, money-making opportunities have a way of falling into your lap.
Just ask Byron and Alison. They never could have guessed the new career that would be waiting for them when they moved to Spain…
Rob Carry
Editor in Chief, Fund Your Life Overseas
* * *
Fun Money
By Kristin Henning
Six years ago, Byron and Alison Lee (57 and 53 years old) were listening to a performance at a local bar in Murcia, Spain. Byron listened to the DJ for a while, and then said to his buddy behind the bar, "He's not very good, is he?" The owner shook his head. "Tonight's his last night."
Before you could say, "I Left my Heart in San Francisco," Byron was next in line for the job. With their heads still spinning slightly at the speed with which they had found themselves a new career, he and Alison invested in the essentials to start up. They bought amps, a computer, a pair of microphones and the rights to songs. They started their new entertainment business within the week.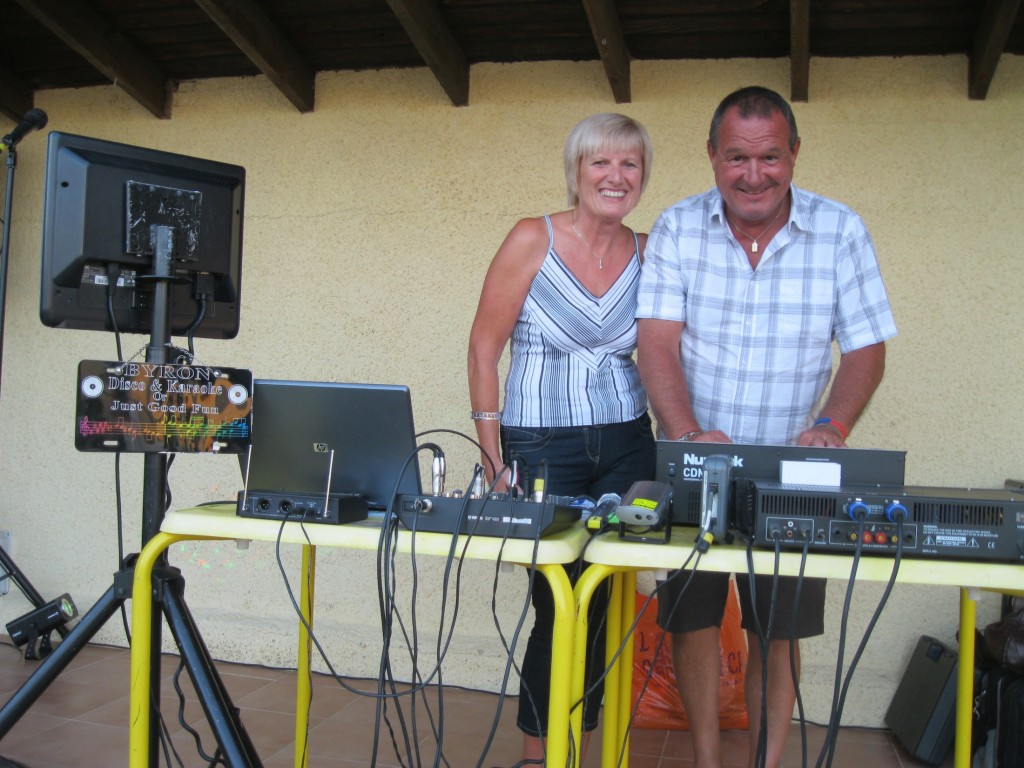 Did either of them have experience singing or entertaining? No, although Alison is quick to point out that Byron "has always been the life of the party" and was well known for keeping things rolling at friends' and family events. For his part, Byron admires Alison's ability to manage the business operations and work the crowd. She remembers the names of even occasional and seasonal guests, and is continuously on her feet taking requests and encouraging new and old friends to participate.
From Lancashire, England, both Byron and Alison had travel experience before moving to Camposol — a largely British and northern European community of expats in the southeast of Spain, near the Costa Cálida. Byron served for 25 years in the Royal Air Force. Alison lived in Rhodesia (now Zimbabwe) until she was 15. She later joined the Women's Royal Navy before raising a family while working and volunteering on the side.
The Lees chose Camposol on their first and only viewing trip for property in Spain. It's as sunny as Lancashire is rainy, and Alison was drawn by the mountain setting. It's also just a 15-minute drive to the beaches of Mazarrón and Bolnuevo.
The Lees made the move by buying their home outright after selling their home in England.
The couple already had enough income to get by, but they wanted to work. It plugs them into the community, and it's fun. The Lees work more during the busy tourist season, April to October, and fit their own holidays into the November to March months.
Running the karaoke and entertainment business isn't just queuing up the songs. Byron carefully plans the musical preludes to set the tone, prepares lighting and props, and gets the ball rolling by singing a couple songs himself. They both improvise as needed when the pace slows, a younger crowd appears, or the evening progresses.
"Ballads, a lot of ballads," says Alison, when asked what songs were most popular. To quicken the pace, you might see Byron bring out the "air" guitar to get things rockin' (using a tiny toy guitar for comic effect). Other rhythm instruments are available for back-up singers, and suddenly more people shed their reservations and hit the dance floor or prepare to sing.
The fringe benefits? Besides the friends, referrals, and supplemental income, Byron can fulfill his desire to perform and entertain. And in the off-season, there's time to visit family in New Zealand, when it is summer there. They can show up to work in shorts, have a drink on the job, and, no doubt, kill in the music category of Trivial Pursuit.