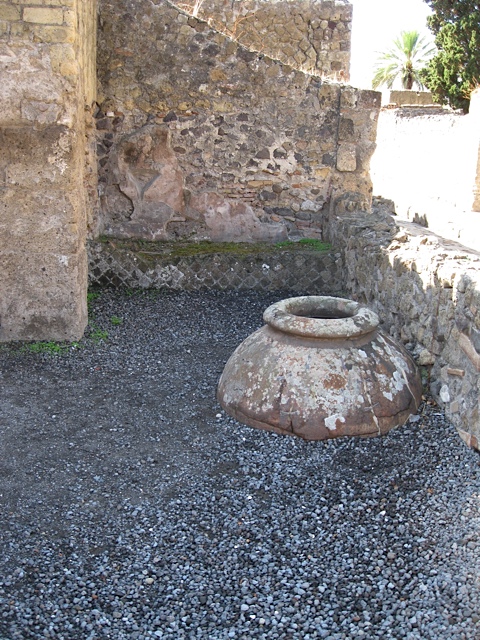 After a long day of looking at wreckage and ruins, it's not likely you'll want to wander around in search of an interesting meal. Thanks to a recommendation from our equally admirable Hotel Diana, just a half block up the street, we walked into La Bettola del Gusto early enough to be seated, despite our lack of planning and reservations.
This is not your typical Roman tourist menu, but you don't have to spend a fortune, either. The menu is nicely organized with each section (Antipasti, Primi, and Secondi) divided in two: The Sea (fish/seafood) and The Land (meat/vegetables). Everything looks fresh and interesting. I selected the Tortelloni di Noci and loved the large, single pasta prepared with cherry tomatoes, nuts, and pesto. Not the basil pesto I expected, this nuttier version was even better, rich and tangy, inspiring an appetite for the next course. Meanwhile, my Latinist chose the Antipasti 'Il Tipico,' a plate of prosciutto di parma and mozzarella de bufala with olives and eggplant in olive oil. The flavors far exceeded the typical antipasto serving.
My second plate was a spectacular Sea Bass baked in salt, presented at the table under a mound of salt so big I was sure I had broken the bank by ordering the unpriced special of the day. It turned out to be a modest portion of perfectly cooked and unadulterated fish. Mr. L, on the other hand, enjoyed the Cappeletti di Fume, a larger than capellini pasta with peppers, sausage and basil provola. Yum.
Meal-size salads are available, like the Tonnara with tuna, corn, arugula and parmesan. The side dish offerings include mixed bruschette, fried zucchini or the local specialty zucchini flowers, salads, grilled vegetables, roasted peppers, nuts and cheeses. All these and the chef's specials are welcome relief from the tired tourist menus of pasta+meat. All surely deserve to be shared, if not hoarded.
On my next visit (I've been campaigning for a return since we walked out the door) I'll be sure to sample more. Since visiting two more excavation sites and the Naples Archeology Museum, I realize more ruins deserve more courses.
La Bettola del Gusto
Ristorant & Vineria
Via Sacra 48/50, Pompei
081 863 78 11